Progress Photos for October 20, 2002
Lift Tests Continue
Back to Photo Gallery page.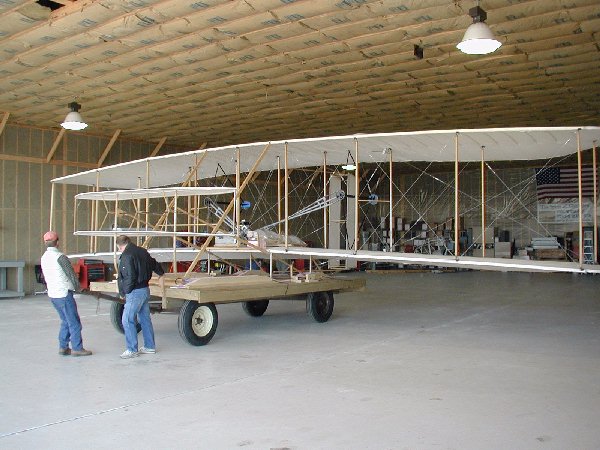 1. The "Spirit" is pulled from her hangar for another series of lift tests.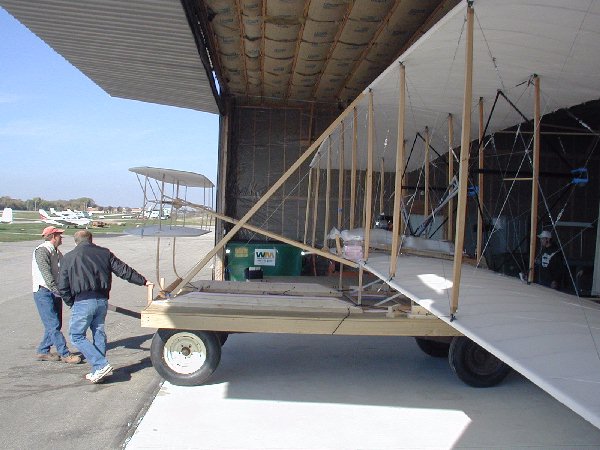 2. The day was sunny and cloudless, and the air crisp but very still, at first.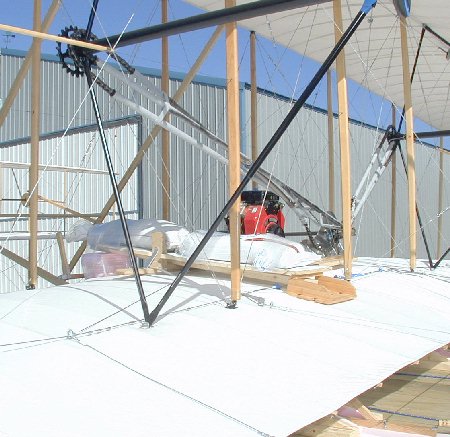 3. The placement engine is secured in place, prop tubes and chains attached. "Joe Sandbag" acted as pilot.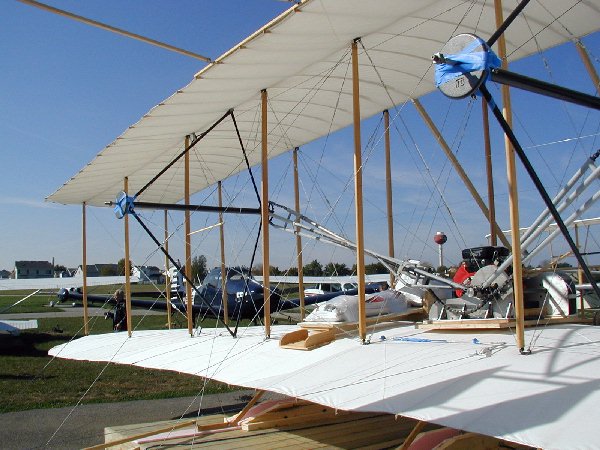 4. Weights taking place of the props, gave the "Spirit" proper weight simulation.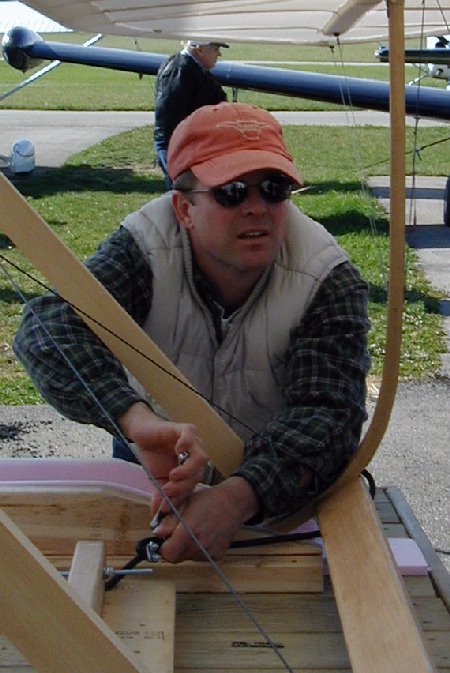 5. Ken Kirincic the "Spirit's" eventual pilot adjusts the rigging.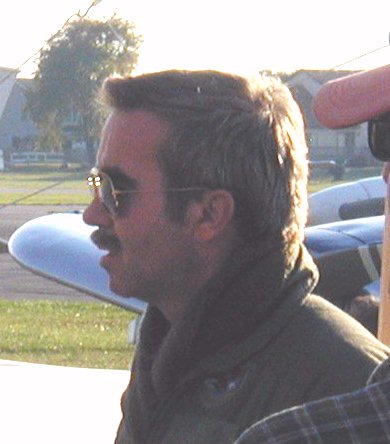 6. Mike Gillian, another pilot, looks on at the activities.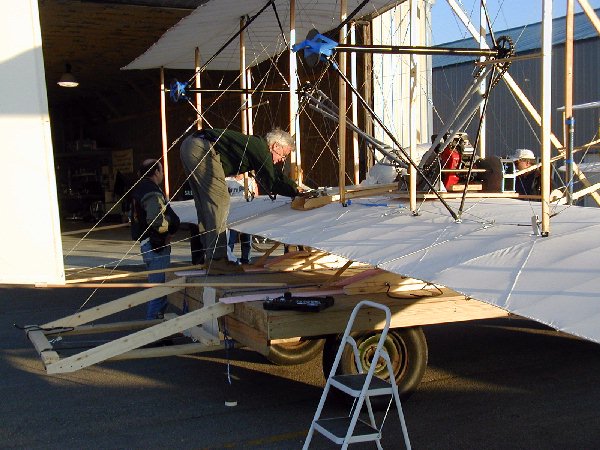 7. Ted Craft makes adjustments to the wingwarping wires.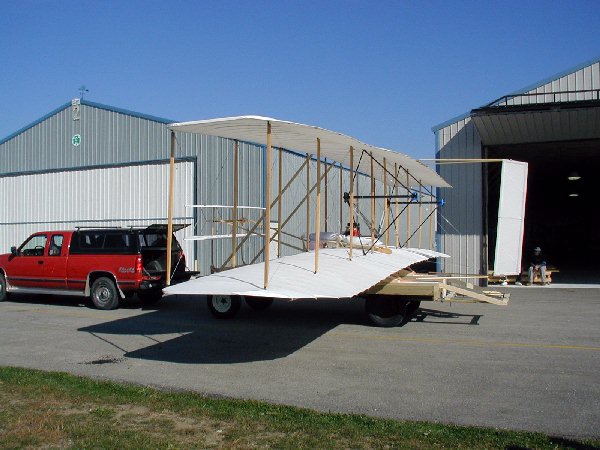 8. The "Spirit" is hitched and ready.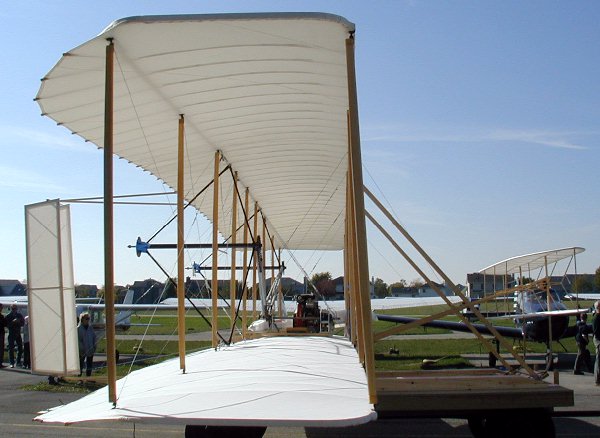 9. The "Spirit" is looking good on this beautiful day.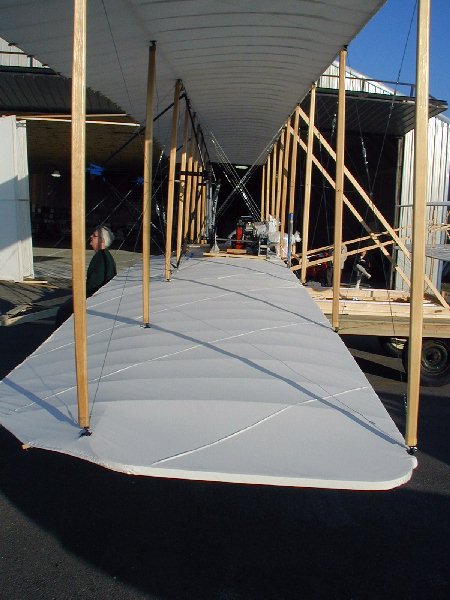 10. The beauty of the muslin covering never ceases to amaze, thanks to Jean Mumford our seamstress.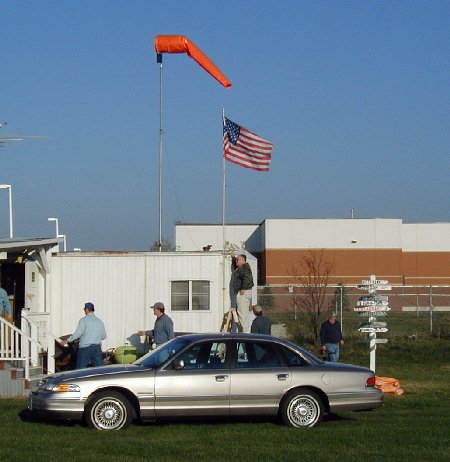 11. A northerly wind picks up a bit.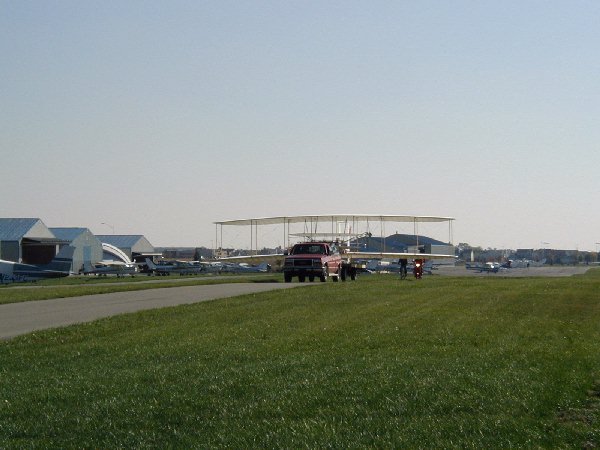 12. Ready... set... GO!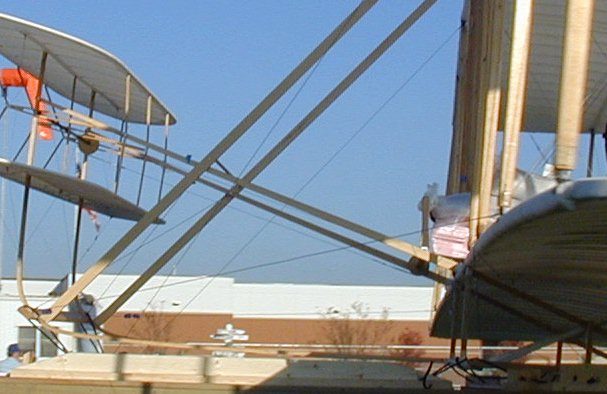 13. She gets LIFT!! Notice the bungies straining to hold the "Spirit" from taking flight.

14. Compare the degree of lift to this at rest photo, with no tension on the bungies.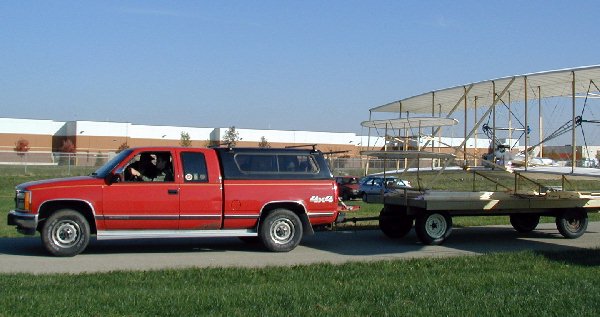 15. Several more pulls take place with varied degrees of success.
Thinking the truck's cargo cover may be blocking air flow…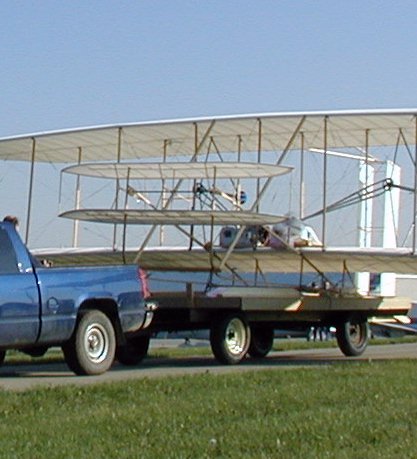 16. …a truck without a cover is tried, also with varied degrees of success,
due in part to varying wind speeds.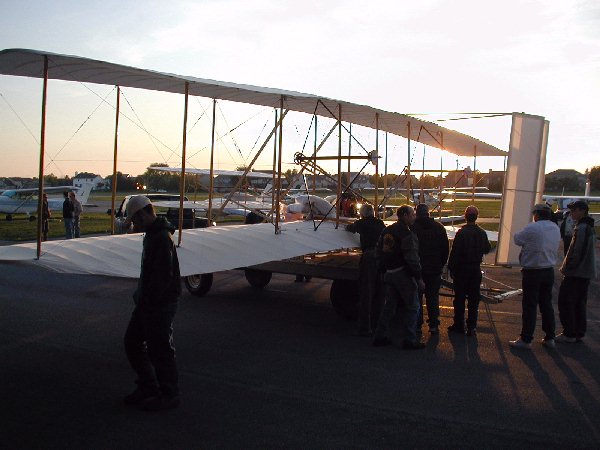 17. As daylight begins to wane, we decide on one last pull.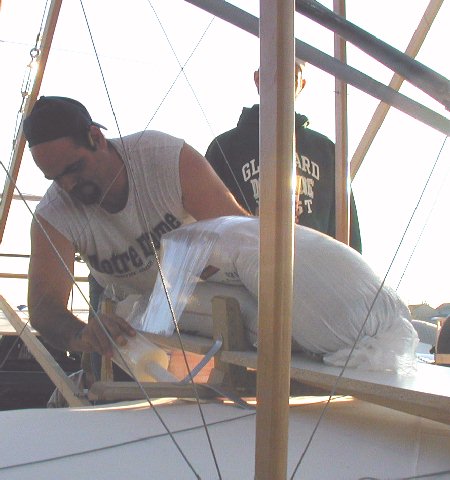 18. Mark Miller adjusts Joe Sandbag's position in the pilot's slot.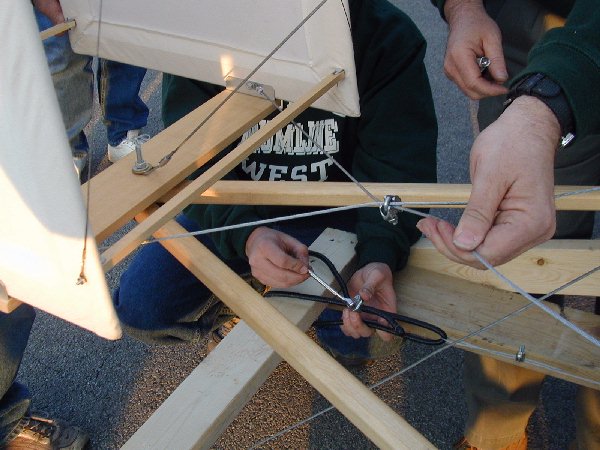 19. One final adjustment is made to the bungie cord tension…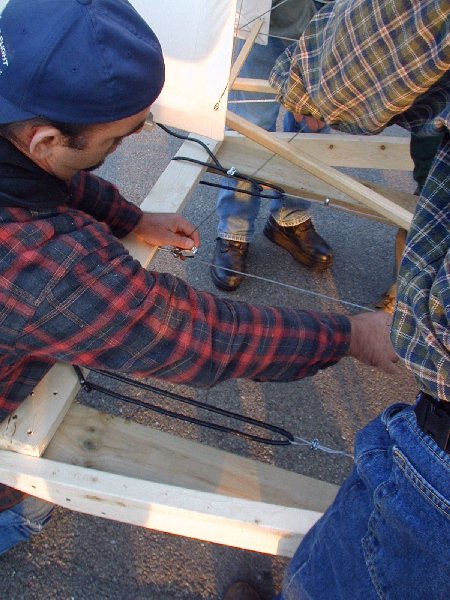 20. ...and the tail rigging.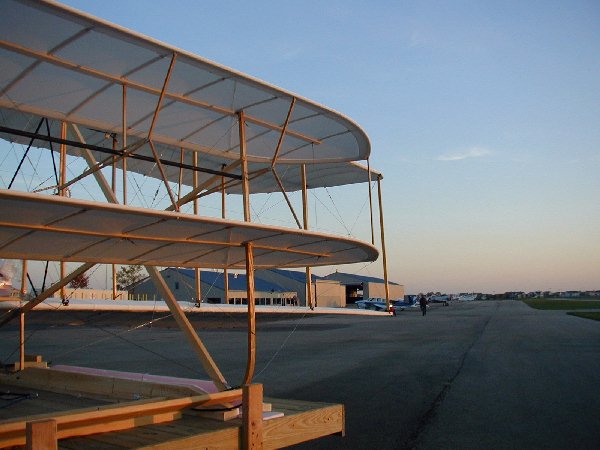 21. Out she taxies for one final lift attempt of the day.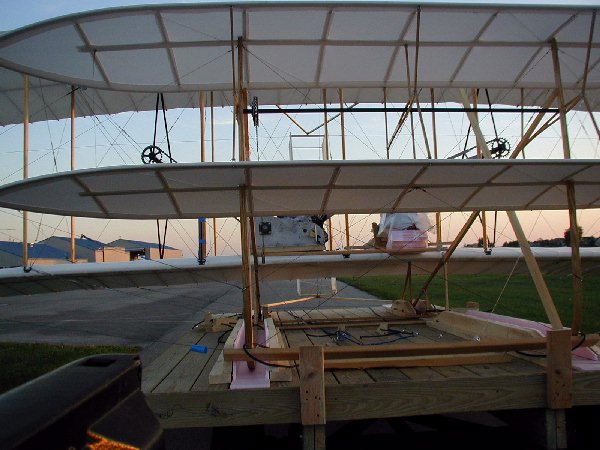 22. The truck speeds up...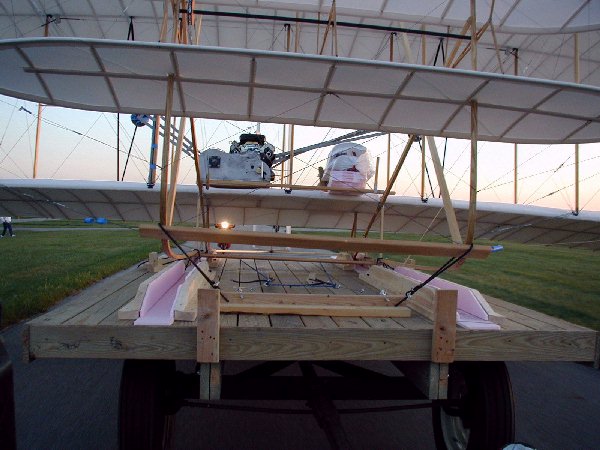 23. ...and LIFT is achieved, bungies once again straining to control front end lift.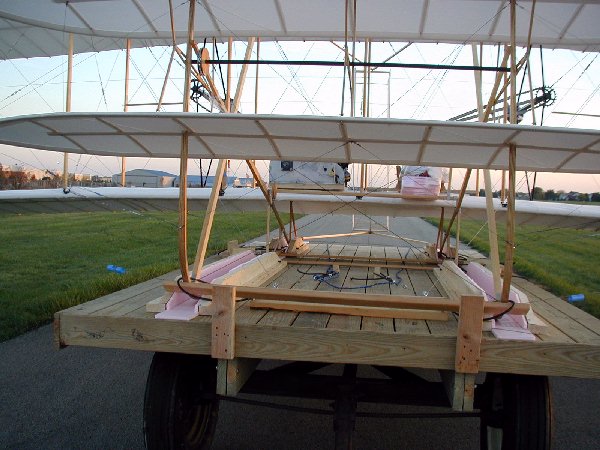 24. As the truck slows, the skids gracefully return to rest.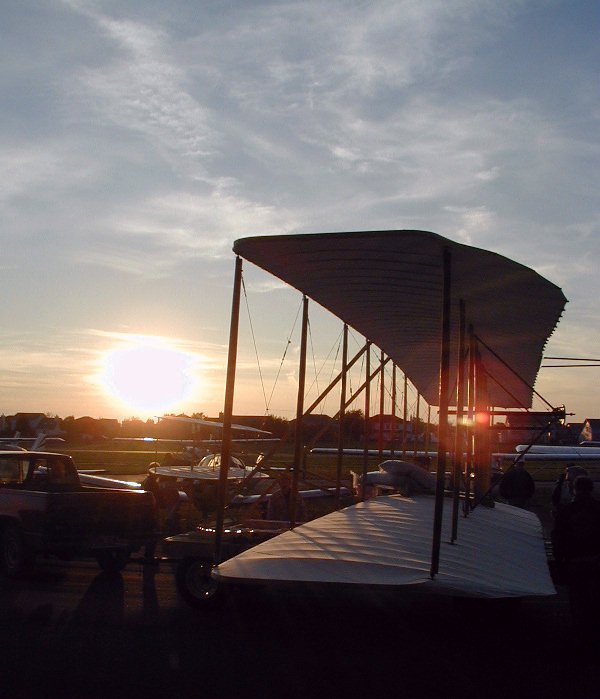 25. With the sun about to set, it's time to call it a wrap.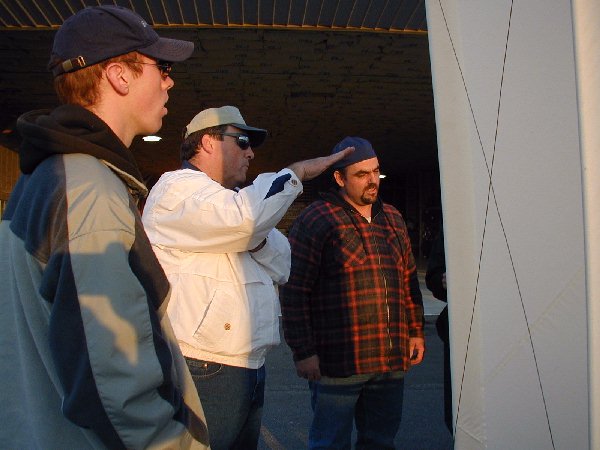 26. As the Wrights surely discussed the day's events, the Packer and Wright Redux crew discussed theirs.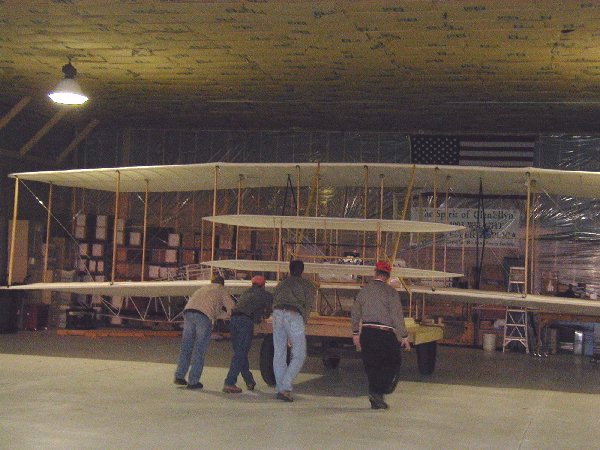 27. The "Spirit" is slowly rolled back to her berth.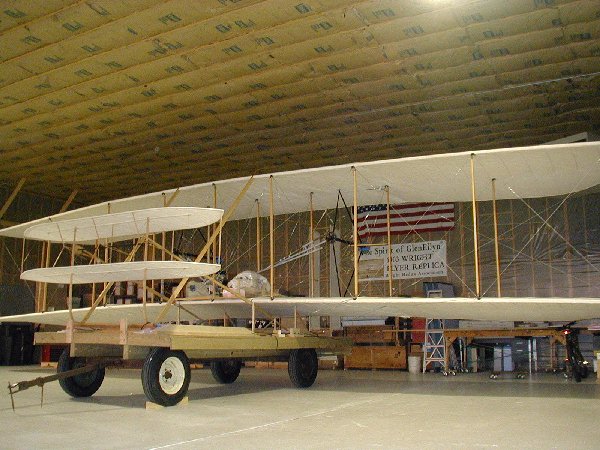 28. Chocked and securely back in position, the "Spirit" awaits another day of tests.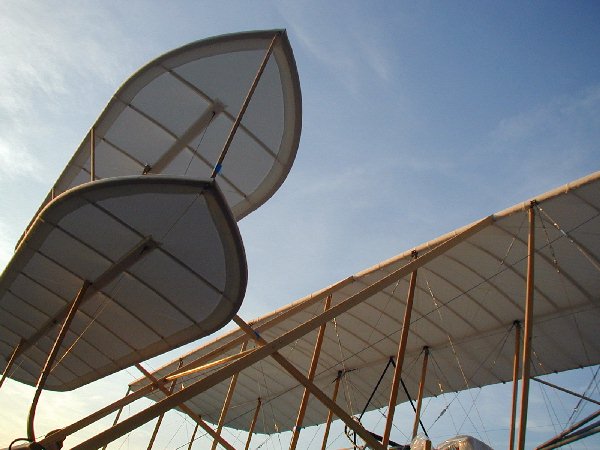 29. We all eagerly look forward to the day when she finally takes flight under her own power.
More to come.